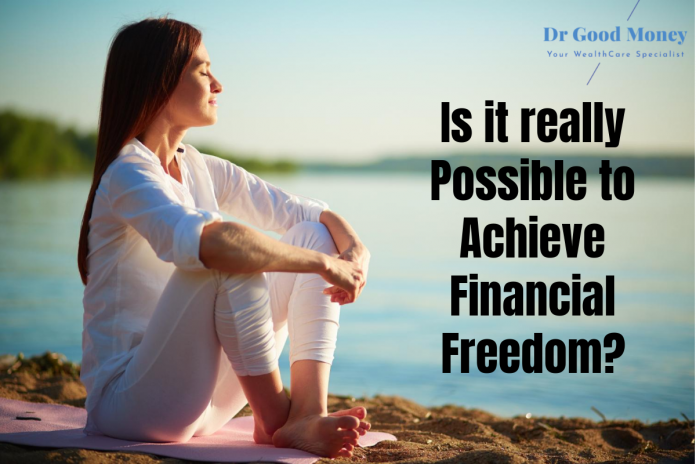 Financial Independence is the ultimate goal. Every Planning exercise is directed towards this. I have dedicated a Full Chapter to Financial Freedom in my book "The Art of Being Good with Money". Below are few words from it:
"They say financial freedom is a stage when you can buy anything you want, without worrying about the money…I say when you are at a stage when you can confidently refuse to purchase more, as you do not need it, that is called freedom – freedom from materialism and consumerism. Financial freedom is a state when you are and feel free to do anything and everything with the money you have. You don't need to exchange your time for money, but you value your time the most and spend your time the way you want without being worried about money". ( Buy your Copy today – Click here)
Recently, I have participated in a discussion organized by the Dainik Jagran team in collaboration with Aditya Birla Sunlife Mutual fund, where we discussed Financial Independence, and how easy it is to achieve for any investor.
It was an interesting conversation where Me, Mr. Amit Trivedi – a Senior Financial Markets trainer, and Mr. Lalit Sharma- Regional Manager in ABSL Mutual funds were asked a few questions by Jagran anchor on Financial Freedom and then they took some of the Audience questions in the end.
It was an interesting discussion, purely focused on financial literacy, with no product-related questions. Generally in such webinars, the questions pertain to which product is best, which will generate a high return, where to invest, etc.
Nothing of such sort was discussed, and we focused on strategies, Pitfalls, expectations management, challenges which investors face, and is achieving Financial Independence really possible?
The Video of that show has been embedded in this article, but I would like to highlight a few important points which may help you get the gist of it.
So, the session started with 20 minutes of presentation by Mr. Lalit Sharma, where he showed a presentation on how one may strive and work towards achieving financial freedom. He has also listed out 10 steps or action points which one may follow to achieve financial independence.
Post that it was our turn, and the anchor Ms. Smriti Rastogi, posed a few interesting questions to all 3 of us.
Important Questions Asked on Financial Independence:
What are the three important steps to achieve Financial Independence? And to be very specific, what should be the First  Action point towards this goal?

The second part of this question was asked to me, where I discussed why it is important to define your own financial freedom first. 

Your Independence is yours alone not of your friends, neighbors. You need to fight for it. Freedom does not come so easily. 

Where Independence may be related to Passive Income generation, freedom is a feeling, and without achieving the freedom you won't be able to enjoy independence. 
What could be the Right Age to start saving towards Financial Independence? And Why? And What could be the age by when one should be able to achieve independence?

Specifying the Right age for both the questions was not simple. So, Mr. Lalit laid stress on starting as soon as possible, in fact, he advised starting with the First paycheck. He also explained why delaying this goal could be dangerous for financial wellness due to uncertainty in the job and business scenario. 

Amit also contributed here by giving different behavioral issues which need to be tackled when trying to save towards this goal. It's a Responsible goal. It's not an event, but a journey. So one needs to plan for them also, this discipline is very much required.

Amit is the Author of Sabse Bada Rupiya (Personal Finance Lessons from BOLLYWOOD), so he quoted many Bollywood examples to make these financial concepts easy to understand
How can Inflation impact your Savings and Expenses? 

This is the inflation because of which your Income is Rising, and also this is the inflation which we need to beat while doing our savings. 

Your savings should generate positive returns post taxes and Inflation. 

Compared to the last 20 years you may easily understand how expenses have actually risen, how lifestyles have actually changed. When you put these numbers on your future, you will see how your expenses are going to rise, and with current high expenses, how your savings are going to be reduced. 

The ultimate focus of an Investor should be to gain Real returns to keep beating inflation for long. 
What Can help a person to achieve financial independence and what are the pitfalls to avoid?

Do not depend on savings only, keep increasing your savings potential by upgrading yourself professionally so you should not be dependent on a single employer.

It should be easy for you to shift jobs, or even do your own consultancy, and difficult for the employer to let you go. This will help in staying intact with your current income and savings potential.

Independence is not only about accumulating the corpus, it should also be about how to make the best use of that Independence. 

What will you do once you are Free to do what you want? You need to decide this upfront so you should not waste time and money on other activities

You need to understand that Retirement is a Journey, and life is dynamic. Things may change. How easy would it be for you to change, that is the question.
Some other questions were:
Is there any pre-defined formula to achieve Financial Independence faster? And once achieved, does this mean one should stop working? What is the Ideal Asset Allocation to achieve Financial Independence?
It was a wonderful discussion. Full of Real-life instances, experiences, Stories. You will get Bollywood style – story, action, and entertainment. Learning would be an additional takeaway
Do watch till the end. I am sure you will like it.
In case you have any questions, please feel free to ask in the comments section.