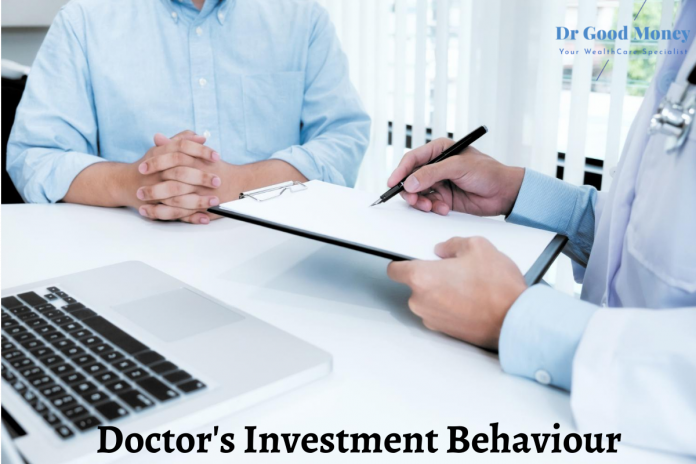 There is a very common complaint among doctors that patients approach them for treatment after they have tried all kinds of medications they have heard, read, or have been recommended on the internet, or by friends and families.
In consequence, by the time they seek the help of a medical professional, they are unable to treat easily or recover quickly.
It happens. Because of the noise around and Free information available on the internet, each and every person first takes it in and acts on it and then, after things get worse, looks for professional advice. (Read: Idiot Syndrome & Money Management)
Doctors are also not immune to this problem. Because they too are human, they have behavioural biases when it comes to things other than medicine.
Personal finances are one of them. With so much of the information available for free, in the form of star ratings, reviews, newspaper articles, blogs, TV shows, and even friends and family with some knowledge of money management, even doctors are hesitant to make use of professionals. (Also Read: 5 Risks Doctors are exposed to & How to manage those)
Many times it is unintentional because they don't know who to turn to for such advice. Often, however, cost plays an important role here as well. Buying medicines (Read Investments) from Chemists (Read Bankers/Agents) and ignoring doctors (Read Advisers) seems cost-effective when the focus is on the products and not the process.
YOUR FINANCIAL DATA
RECORD KEEPER
Organize and Collate data at a Single Place for easy Access and Management
Sometimes you behave like patients, when, in the hope of earning fast returns, you invest in unsuitable, risky investments that, rather than getting you high returns, put your money at the risk of capital loss.
Furthermore, when you are completely risk-averse, you invest in only debt products such as PPF, bank fixed deposits, bonds, etc. (Read: Why PPF is a good Long term Debt Investment for Doctors?)
This may work when your income growth is so high that even if you don't earn an inflation-beating return, your investment can still help you reach your goals.
Generally, however, it doesn't work this way. High income leads to a high-end lifestyle, but not many savings. You need equity-oriented investments to beat inflation and accumulate enough to cover up the lifestyle expenses in your old age or Retirement. (Read: Why Doctors should consider Retirement Planning as their most important Financial Goal?)
In order to achieve financial freedom as soon as possible, it is advisable to add equity to the portfolio. It would be more harmful to avoid it completely. (Also Read: 3 Bucket strategy to manage retirement expenses)
A former behaviour can be compared to when a patient takes antibiotics and steroids unnecessarily, believing they are getting better faster. Overuse, however, can have more adverse effects than positive ones, and eventually, the body stops responding to them.
In the last picture, we see patients who rely heavily on Homeopathy and Ayurvedic medicine for all treatments. It may be successful when you have a very simple diet and exercise habits, as well as an active lifestyle. However, if the disease requires strong intervention for a proper recovery, or if surgery is required, allopathic physicians cannot be completely avoided.
These days, even doctors prefer to counsel patients on wellness, as no treatment can be successful if a patient is constantly stressed. Stress cannot be removed from life, however. Stress must also be managed, just like diabetes. Hence, in addition to medicines, doctors also advise on diet, exercise, walking, meditation, etc. (Also Read: How to manage money stress?)
Visiting a doctor is all about getting better faster as a patient. When medicines do not result in fast recovery, doctors get the blame. It is because of this that sometimes doctors themselves choose to put patients on strong medicines from day one to make themselves popular with patients, which is a bad idea.
Doctors tend to behave the same way when it comes to personal finances. Personal happiness is necessary for professional wellness. Despite their high income, even the richest people cannot maintain happiness. The expectation that a financial advisor will generate high returns from investment is a sign of some mismanagement somewhere in life. In order to truly enjoy the wealth you have and want to accumulate, you need a holistic approach to wellness.
Conclusion:
Even doctors behave like their patients when it comes to managing their personal finances. In human nature, we expect others to deliver results, and rarely work on our own since that demands changing routines and habits. We find it difficult to accept change.
It is advisable to strive for change when it is intended to enhance one's well-being and well-being. In the beginning, it may seem difficult, but when you see the positive results in your life, you will appreciate it.
Only those patients respond well to medicine who surrender themselves to the professionals and follow the advice without question. Additionally, only those with a good professional by their side tend to stay healthy and avoid medicines most of the time
Therefore, it is advisable for even the doctors to have a financial professional as their advisor since the noise around will never allow them to concentrate on what is important. Plus the busy schedule will make them fall prey to many mis-sellers.
Your mantra should be Do not behave like your patients if you are sincerely seeking financial wellness.