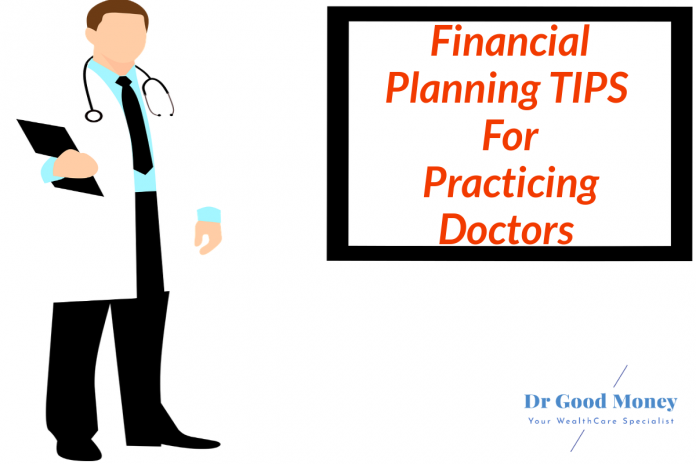 Financial planning is important for all. Be it salaried or practicing doctors. You may be working with some hospital, or Running your own practice, or maybe doing both, in today's kind of competitive and complex financial environment, to be successful, your personal and business finance both needs equal attention.
But the challenge with doctors and other professionals is that they have no certain and clear cash inflow stream at least in the initial years. And their focus is more on increasing that stream since that is the Income source for them. Plus they also want to expand their practice, which further demands some investments.
(Also Read: How to do Financial Health Check For Doctors)
You have to understand that the purpose of income from business or professional practice is ultimately to achieve the Goals at a personal level. I agree that business itself demands some money arrangement for its sustenance and future growth, but this is where Financial Planning comes into the scene.
You have to see, business and personal finances separately and make plans for growth on both sides. This is important so both of these areas should not bother and interfere in each other's goal achievement.
(Also Read: Financial Planning for Young Doctors)
YOUR FINANCIAL DATA
RECORD KEEPER
Organize and Collate data at a Single Place for easy Access and Management
This is not easy, especially in a small or individual setup since you tend to claim individual expenses from a business account, and also there is no check on what business income should be used for personal use. But still, if followed a few basic principles of financial management, this overlap can be handled well and give you more focus on both areas.
Below is an Infographic which will give you 5 steps to manage the Business finances for Personal growth.
Financial Planning for Practicing Doctors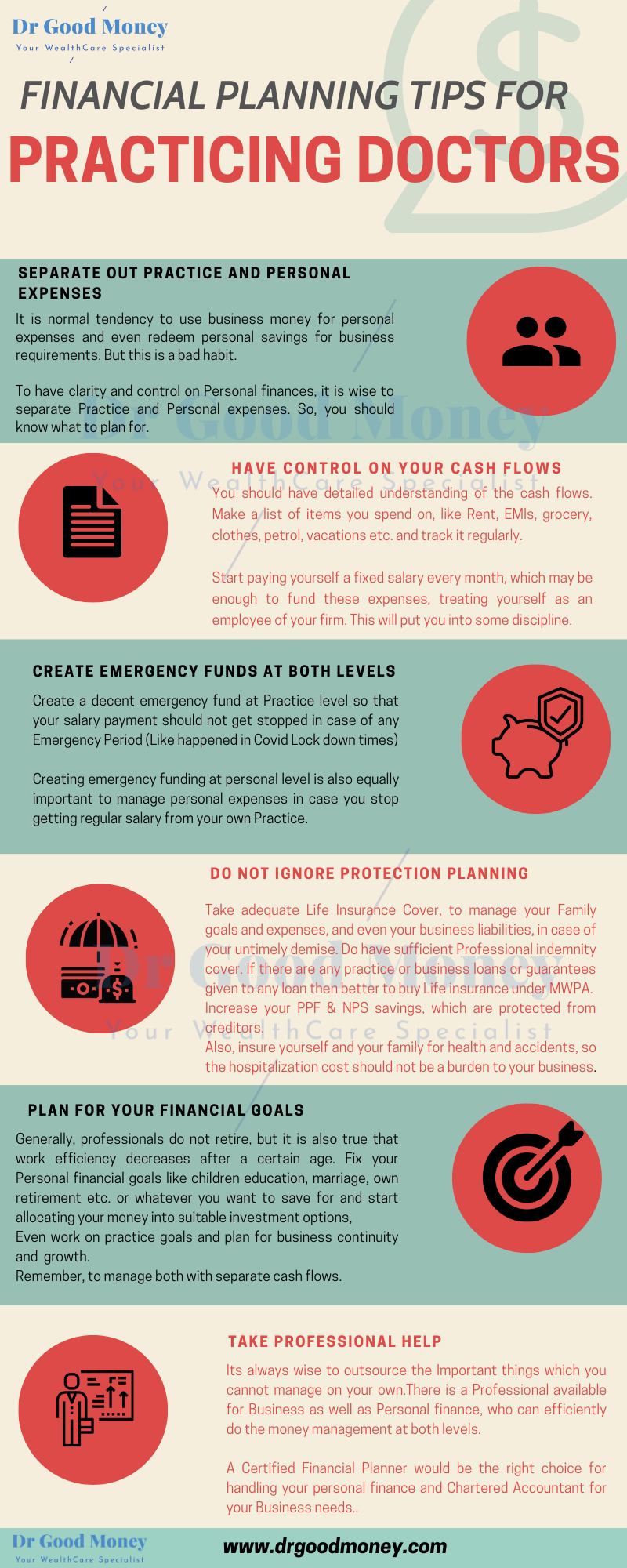 Final Words:
Financial planning for professionals like doctors is quite important, no matter whether you are into your own practice or take up a job. The reason being, you have decent cash flow coming in, which not only tempts you to spend more but you may also be exposed to mis-sellers, selling unsuitable and complex products.
Also, you are in the busiest profession, long working hours are common. In addition, in this ever-changing medical world, you also have to devote time to upgrade yourself.
All these may take your personal finances on the back burner and you may end up into financial products that do not suit your risk profile, financial goals, etc.
Just like you take care of a patient's health, it is important to take care of your financial health as well. You should have a proper financial plan in place to achieve your financial goals, taking a holistic look at every angle of your finances, be it insurances, investments, taxes, etc. (Also Read: Financial Plan or Planning what is more important?)
And, due to time constraints and low exposure to the subject, do not hesitate to take the services of a Certified Financial Planner, who can write a financial plan for you and advise you on the right investment avenues according to your suitability. (Also Read: Right Financial Advisor for Doctors)