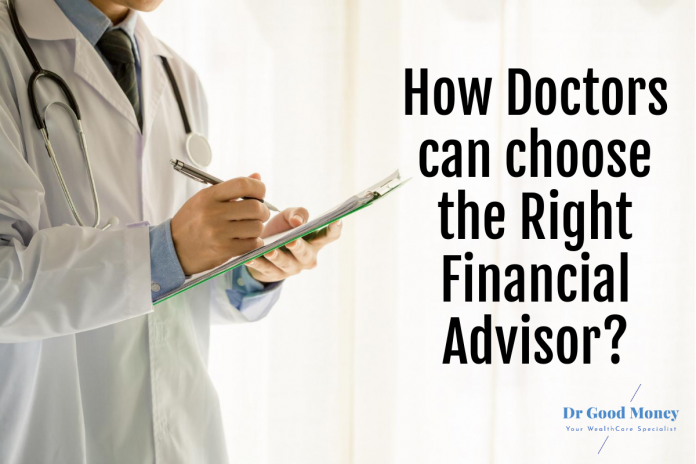 Doctors themselves being in the most respected profession know the importance of dealing with the professional.
You know very well that Chemists (Medicine Sellers) are not authorized to give medical advice.
Unfortunately, most of the patients prefer talking to chemists only at the first stage and only visit doctors when the health issue aggravates, unless they are covered under some insurance that supports the OPD or general treatment cost.
My father used to run a medicine wholesale shop and was habitual to do self-medication for most of his health problems. Combiflam was his favorite painkiller until he realized that he was diagnosed with a kidney problem and got to know Combiflam is doing more damage than good.
Many times, doctors also behave like their patients, when they ask for investment products from bankers, Insurance agents, or Mutual funds distributors, without giving a thought to the actual requirement or in medical terms, without a proper diagnosis. (Read: When & How Doctors behave like their patients?)
The main reason for this is the busiest profession they are in and with no finance background, sometimes they are not aware that there are financial professionals in the market who can holistically guide them on their money management.
YOUR FINANCIAL DATA
RECORD KEEPER
Organize and Collate data at a Single Place for easy Access and Management
At times, they are so positive about their stable income and thus don't even care about financial management, and sellers take advantage of this behavior.
For doctors, the first financial advisor, generally is the Relationship manager of the bank they have their account with. And thus, the first product that almost all the doctors I met, have is the Insurance policy (ULIP or Endowment).
When I ask them the reason for this purchase, the common reply is "as suggested by the Banker".
But did Banker ask your requirements? did the RM try to find your financial goals? did he do the risk profiling to find out what asset allocation may suit you for your long-term investment allocation? How often does the RM follow up on this product to figure out if that is still suitable for you?
(Also Read: Risk Profiling is the Blood Pressure check before doing investments)
All this is because he/she is not supposed to do this. The main job of that person is to sell, by building a "good relationship" with you i.e. bank account holder.
He does not have your wellness in mind, but only concerned about job targets.
Moreover, sometimes it's not the banker's fault.
Have you ever asked such a question to the product seller? Did you ever ask your Financial advisor his/her qualification? What is the basis of your selecting a Financial advisor for Doctors in India? How would you ensure that your financial advisor should work for you and advise in your best interest, the way your patients expect from you?
If not a banker then it could be some relative or your insurance agent or even mutual funds agent, who has sold you some investment products.
And these days people are not being mis-sold, but are mis-buying the investments, by doing their "so-called research" online, and investing in different products themselves. (Read: Idiot Syndrome and Money Management)
There are many tools and free websites out there, which provide lots and lots of information, which lead many to do it themselves with no supervision or advice of a specialist.
How Doctors should select a Good Financial Advisor in India?
There is no replacement of a good financial advisor, and nowadays it is not difficult to select a good one who can advise you on each and every personal finance aspect, with no conflict of interest as they do not earn any commission from the product.
Their source of earning is just like doctors i.e., Fee from the Clients (Patient).
These Financial advisors in India are registered with SEBI (the Financial Regulator) and follow strict compliance rules. They have to have a structured and documented process of advice and go through the audit by Chartered Accountant for the SEBI compliance.
These Financial advisors are qualified and experienced enough to advise you well on your Financial Planning and Investments.
Not every advisor is registered with SEBI even if they have some sort of certification which may confuse you.
In fact, in Sept 2020, SEBI came up with a new regulation that says that no person or firm can use the word 'Advisor', 'Consultant', or any of such nomenclature which construes advisory services and confuses the investor.
Only SEBI Registered Investment Advisor can use such terms.
The First step of choosing a financial advisor in India:
The first step would be to choose only SEBI Registered Investment Advisors. You may get the list of registered people from SEBI's website. You may even verify the credentials of your current advisor from here.
Do not fall in for the list of Fee-only financial planners you may find online. All SEBI registered advisors are Fee-only advisors only. The lists available on different sites could be biased or promotion of specific people only.
The second step in choosing the Right Financial advisor:
The second step is to check the experience and additional certification. Financial Planning is the best way to have a structured approach to investments and financial goal achievement.
So, if your Chosen SEBI registered person has Certified Financial Planner (CFP) or some other equivalent certification, you may go with the same.
But be sure that the person actually follows the financial planning approach and is not just trying to sell you investments in the name of financial planning.
For this, you need to have a List of the Right questions to ask the Financial advisor. Some of these questions could be:
What is the process you follow and how do you think this would benefit me?
What profile of clients do you serve?
How often do we have to communicate? And do we have to meet personally all the time or can we use other online modes too?
On what products would you be advising me on?
Please note that if the financial advisor tells you that he/she can generate you high return, then this could be a Red flag for you, as Returns are something that all good financial advisors know not in their control.
If an advisor likes to give you Insurance policies or PMS products having a high inbuilt commission in it, then also you should avoid that person, unless he/she has a strong and convincing reason towards it.
You may visit the Website or Professional profiles on social media like Linked in to check the details and testimonials if any. If the advisor runs a Blog or Vlog, you may like to follow it for some time so as to have an idea of the thought process of the person.
The Third step to decide and finalize the Financial advisor in India:
The third and final step is to check out the cost structure. As mentioned earlier all SEBI registered Investment advisor is Fee-Only Financial advisors. So, the advisor needs to fully transparent with you on the cost structure.
Anything hidden creates mistrust in a relationship, which is not good.
The cost depends on the Services you are asking for.
If you want only prescription (Advice) and would like to execute every advice on your own then the advisor may ask for a one-time fixed fee. (Also Read: Prescription or Treatment- what is more important)
And if you want the financial advisor to handhold you in the whole financial journey and need ongoing advice along with a financial plan, then the cost could be some percentage on the Investments under management or a fixed annual fee.
The fee should not be the deciding factor, but still, you need to be clear on this to avoid any future confusion.
Conclusion:
Financial wellness is equally important as Physical and Mental wellness. The doctor knows the value of a good Professional in any kind of long-term relationship.
Just like having the wrong medicine could spoil your health, same way wrong investments could also damage your financial health.
It could be the wrong financial habits too which needs to be corrected, so you need an advisor who can coach you and work on your behavior.
Having a Registered, and Professional Financial advisor by your side makes the life Journey smooth. He/she works as a family doctor and keeps guiding you on every financial decision you make, so you reach your financial and life goals comfortably.
And yes, nowadays, it's not difficult to find a good financial advisor in India. You just have to do some effort at the beginning, which is worth, looking at the benefits it gives you for a lifetime.