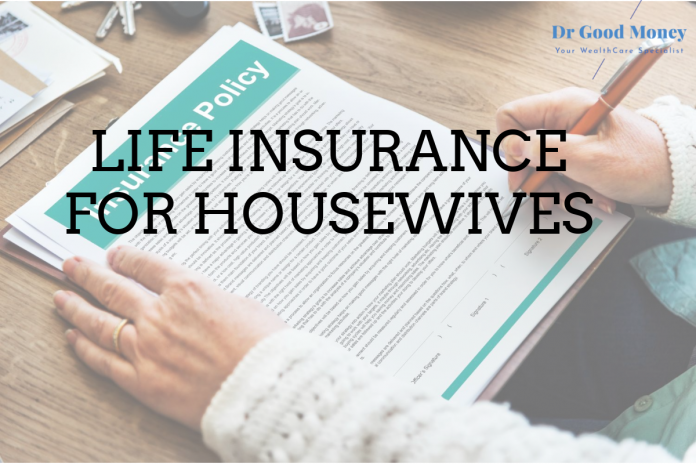 It is common to hear from experts to take life insurance cover on the life of the earning member of the family. Obviously, it makes sense to provide a cover to compensate for the loss of the income if something were to happen to that person. In most families, this person is either the sole breadwinner or the primary contributor to the family income, there is usually a few life insurance policies in their name.
Did you notice that the above sentences were written without using the gender of the person in question? Did you also notice that most likely you were thinking of that persona as one of the male members of the family? Do not beat yourself up in thinking like that, as it is not only ingrained in our collective psyches but also the reality that we witness daily.
In most families, the only or the sole earning member of the family comprises of their male members. Despite the increasing participation of women in the workforce, the absolute number and share of that gender are still minuscule.
We are not getting into the absurdity of and the reasons for this dated and archaic idea of preconceived gender roles. We are simply stating the facts as they are. The reports from the World Bank and CMIE paint the grim picture that despite being equipped with higher and professional education, more women chose to become homemakers.
Now, getting back to our main topic – Is it advisable to get a life insurance cover for the housewives? If so, then how much is an adequate cover? Should one "invest" in conventional plans like endowment and ULIPS or should you stick to the vanilla term plan?
As stated innumerable times, buying a life cover helps you compensate for the financial loss due to the untimely death of the earning member. But what about the contributions of a family member whose contributions are and cannot be monetized at all?
In this article, we will help you realize the contributions – both financial and non-financial – that a homemaker makes to the family. As there is no way to monetize her role, we would look at what would the family have to spend if she were not around. This indirect method of substitution costs would give us an idea of how valuable she has been to the family!
Your Responsibilities When the Housewife is Not Around
Imagine a scenario that your wife is on a trip to her parents, and she is incommunicado for a few months. This thought experiment would help you realize her importance, value, and contribution. We are not listing every chore that she must do as a natural multi-tasker and default caregiver, but simply grouping them into a few categories.
24×7 House Manager + Chef + Housekeeper
Even if she has an array of helpers to do the actual work, which is very very unlikely, let us list her duties:
Daily cleaning, dusting, and mopping of the house.
Laundry and ironing of clothes.
Inventory manager for household and kitchen items.
Accounts Manager for bills, shopping, and managing expenses (even on a shoestring budget).
Hospitality manager for your relatives, friends, kids' friends, and all assorted guests.
Cooking for you, in-laws, kids – 4 to 5 times a day – and that too different things to suit the palates of each one.
Ensuring timely repair and maintenance of appliances, home, and other items.
Planning for big-ticket spend for months in advance – vacations, education, weddings, family functions, etc.
24×7 Care Giver and Primary Healthcare Expert
When your wives are not around, you are expected to:
Take proper care of different food & nutritional needs of each family member.
Provide primary healthcare – tending to wounds, offering tea or kaadha, dressing, ensuring everyone takes their medicines on time.
Care for the elderly and the children when they are sick.
Providing comfort by way of cajoling, listening, talking, massages, and simply hugging without reason.
24×7 Educator and Protector for Kids
If your wives are not around, you will also have to:
Raise and care for kids with every living breath.
Worry for them when are late from school, even by 10 minutes.
Feeding the younger ones, even if they do not like it.
Teaching the kids – songs, games, words, rhymes, drawing, and helping with their homework.
Disciplining adolescents for their good.
Ensuring they study well and succeed academically.
Ensuring they have a healthy social circle.
Make sure that the kids join extra-curricular activities and sports and maintain their timetable and schedule.
Waking up at 5 am on chilly winter mornings to prepare a sumptuous and healthy breakfast. After sleeping at 11 pm. Every day!
Waking up with children during their late-night study sessions.
24×7 Man Friday
With no housewife around you will have to don the role of the man Friday for all your family members. Whether it is going to the market for buying stationery or getting a glass of water, the kids will rely on you.
Your duties will not complete even if the family members are at school, office, traveling, or anywhere for that matter. You would have to not only be pre-emptive in fulfilling their requirements but also be on your toes every waking and sleeping hour.
Monetizing Her Contributions
By now, you must have already realized how important a role a housewife has in a family. But the question remains how much her contribution to the family is if it can be monetized at all. We may never be able to replace her but can either sacrifice our income or hire help to do some of the things, she does. So, let us estimate the burden of such hired help for different roles (for an affluent family with a monthly income above Rs. 1 lakh/month).
| | |
| --- | --- |
| Help Type | Monthly Expenses |
| Housekeeper | Rs. 15,000 |
| Teacher | Rs. 15,000 |
| Cook | Rs. 15,000 |
| Nanny | Rs. 10,000 |
| Driver | Rs. 10,000 |
| TOTAL | Rs. 65,000 |
This is just the cost of service in any metro or Tier-I city in India, and that too with weekly/monthly paid leaves, and no 24×7 availability. For a Tier-II or higher city, you may reduce these expenses and family incomes by 25% and 40%, respectively. In any case, the absence of your wife even for a few months may set you back by a substantial part of your income, loss of work, and drastically diminished quality of life.
Should You Take Life Insurance for Housewife?
If you are still pondering over this question, then here are some more reasons to buy a life cover for your better halves.
Peace of Mind – You will at least have a sufficient financial corpus to meet the sudden increase in expenses or loss of work.
Cost-effective Policies – As women tend to fall less ill and live longer and healthier lives, their life covers come much cheaper than yours.
Savings and Investments – If you are into traditional policies, then they can be a way to save and invest for future needs.
Single Women and Mothers – Single women also have dependents like their parents and children, who will need financial support more than ever after they are no longer around.
Critical Illnesses Riders – Only women are afflicted by certain illnesses like cervical or breast cancers, and they are also more prone to some other forms of cancers. With riders, they can get manage their expensive medical bills better.
Tax Benefits – We hate to say this, but tax benefits are still needed to nudge people into buying insurance.
Also check- what Women think about Money Management & Financial Wellness
How Much is Enough?
The next logical question is, "What is the adequate life cover for a housewife?"
The problem here is that in the case of conventional policies, as there is an investment component involved, the insurance companies do not hesitate to offer good cover. But that will increase your premium burden and reduce your overall returns.
If you want to go for simple term plans, then they are capped at 20 to 30 times your annual income. And by definition, a housewife has zero income, so she is not eligible for a large and meaningful cover.
Therefore, we recommend that you must start building a tax file in her name by depositing a sum in her name in interest-bearing securities. Though, as the clubbing provisions apply, the first year's interest will be clubbed in your income. But any subsequent income, i.e., interest on the interest will be considered her income. (Also Read: How couples can do tax planning?)
In any case, the insurance companies are aware of the concerns that we discussed here. A housewife can get a life cover of up to 50% of the life cover of the husband. Ideally, you should get the maximum possible cover for her.
Ideal Policy Term: The policy term is dependent on her current age, and ideally should cover her life until 65 to 75 years of age.
Also check- How Doctors can benefit from Gift Tax Rules in India?
Conclusion
The job of a housewife is thankless and often belittled families. It is when we miss them, we come to realize how pivotal they were to our lives – emotionally, physically, and financially.
If one thing that you must take away from this piece, then it must be that start showing that you care for her, help her, and do not take her for granted. It is rightly said that "God could not be everywhere, every time, so he created women."
Also Read: Protection Planning is incomplete without a Personal Accident Insurance