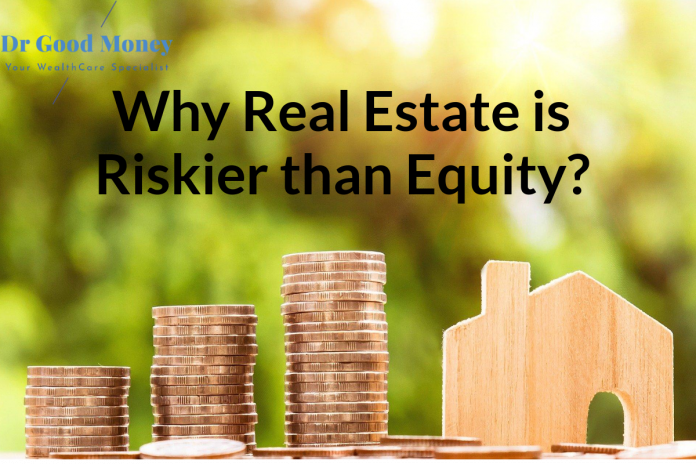 Stock markets are High, Interest rates are Low and Gold is quite Volatile…Do you think I should invest in Property Instead? My Property agent has promised me a Good deal, Should I explore? What do you suggest? Doctor Vivek (Name Changed), a Neuro Surgeon asked me this question. He is my Dad's Doctor and I meet him quite often for my father's follow-up.
Most of the Doctors I meet who are not in professional engagement with me, always ask a question on Investment ideas, as this is what they think I do.
And when I tell them to have a goal-based investment planning approach and follow a financial planning route, they tend to react like their patients. I.e., Focus on immediate symptoms and not long-term wellness.
They want me to suggest product (Medicine), not the solution to their need.
There is a lack of trust in every profession. I think where money is involved, we tend to go into suspicion, and always be skeptical on advice.
The same goes for a patient unless the treatment is covered by ECHS/CGHS or any other Insurance company.
YOUR FINANCIAL DATA
RECORD KEEPER
Organize and Collate data at a Single Place for easy Access and Management
Coming back to what Doctor Vivek Wanted to Know.
I am not sure. I have never preferred Real Estate as an Investment, due to the inherent risks in this asset class. I replied to him.
Are you saying Property Investing for doctors is riskier than Equity Investments? I have always gained when I invest in Real estate, but in Equity investments, I always have to be watchful and lose my peace of mind, and later withdraw in losses or very low returns. He sarcastically asked.
Yes. Real Estate comes with More Risk than equity. I can explain it.
Though it is also clear, that when one has decided to buy he/she will buy and will come up with all the justification and reasoning for the action, but still it is always wise to make an informed decision.
There are a few specific issues in Real estate that generally in good times we tend to forget. Just like on good health days we do not exercise and do not follow good eating habits.
Property Investing for doctors: Why it should not be your primary Investment?
Lack of Transparency:
Buying Real estate for doctors is a big investment, so to make an informed decision, you need to have complete details of the project, the promoters, the other projects' status, Statutory approvals, etc.
Not only for the project you want to go with, but all the properties around and the actual market value going on in that area, are important factors for you to have information on to finalize your decision
There is no such document or website where you can get all the details. Most of the time you have to rely on what the sales office people are saying and showing, or the words of the Real estate agent.
There is no Research, no Professional Support, no Ready to check data to establish ownership or clear land titles, and No details on Past sales of the properties readily available.
Thus, you take the agent's help here who also many times has a conflict of interest since he will be earning from both the parties. His job is not to get you a suitable property but to Strike a Deal between both parties. 
Compared to Equity, where the data is easily accessible, Real estate is quite Opaque.
2. Less Regulatory Supervision and More Legal troubles:
Legal issues of Real-estate are not hidden from anyone.
When the tenant refuses to vacate, or you buy some property already sold in records, or when the property was sold with wrong promises, No timely delivery of projects, wrong selling of proposed amenities, hidden costs, etc. are some of the examples which may invite the legal issues.
Some of these challenges are tried to be answered in the RERA rules, but the transparency issues will always remain.
Real estate Projects are required to be registered, but what about the resale offers? Agents are also required to be registered, but many still are not.
3. Low Liquidity:
If you have bought the property for residence as an end-user then it may be fine, but if it was for investment then be ready that the high promises of seeing its value ever-rising may not hold true especially when you need to sell this up.
Unlike equity investments, you can't sell properties on a mouse Click through demat, or other MF Platforms, neither you can sell the properties partially like one room or only porch area.
There is no ready market to go and sell your property. You may have to wait for a very long time, after putting the details on some property website or taking the help of a Real estate agent.
You have to face liquidity pressure if you have not planned your finances well. Property investing for doctors is an easy sales pitch and Doctors are an easy target for property selling since they get easy loans, assumed to have stable and growing incomes.
But your whole financial planning can go for a toss if you have mapped any goal with real estate. (Also Read: Financial Plan or Planning- what is more important)
4. Heavy Transaction Costs:
Take note of the Incidental costs of Brokerage charges, Stamp duty/ Registration Charges, Club membership, and common area maintenance, all these collectively increase the overall cost of purchase.
Equity Investments does not ask for such charges.
5. Menace of Black Money:
Real estate, especially the secondary purchase, most of the time leads to the conversion of your white money to black.
To evade tax, the seller wants the buyer to pay in cash which is difficult to manage for a salaried doctor, who gets every single penny of income in his bank account.
Practicing doctors are expected to have cash with them, which is why they also prefer to buy only real estate, so the cash income can be adjusted. (Also Read: Financial Planning tips for practicing doctors)
But things are changing now. Post demonetization in Nov 2016, tax authorities are leaving no stone unturned to catch hold of this kind of transaction and plug the loopholes in tax leakage.
It's always advisable to be on the Right side of the law and pay all kinds of taxes due.
And when you have white income, your temptation to buy real estate automatically reduces and you prefer to focus on other important goals which require liquidity and time-based investments.
6. High Maintenance Costs:
Even if the property is for Investment or self-occupation, it demands regular maintenance. Society charges, Minimum electricity charges, Property taxes, renovation & Improvement cost all add up to the regular maintenance cost.
Sometimes the total maintenance spends on a property exceeds the buying cost of the property, when you keep the same for a longer time frame.
That demands a regular cash flow to spend. And it is actually an expense, which you are not going to get a return on. You have to keep your property in good shape so it stays in a resaleable condition, and thus you can't delay this expenditure.
7. Low rental Yield:
Due to the unnecessary rise in property prices, by the people who don't even need a property, the Rental yields have gone down considerably.
It's not difficult to understand that when the majority of people can't afford EMIs they will go for Rental ones. And the affordability of Rental is also quite low.
All these factors result in a Low rental yield of Property investments which in India is around 1%-3% in Residential space; and 3%-5% in Commercial space. That too is taxable.
If you are thinking of putting your property on Rent to manage the maintenance cost, then you also know that managing the tenant sometimes also becomes a challenge.
Conclusion:
From a Financial Planning point of view, Property Investing for doctors should be the last choice, unless the purpose is not investing but buying your own house.
With all the above-mentioned risks that are present in Real estate, Equity without a doubt is advantageous to have.
Even when you consider Equity risk from a volatility perspective only, then do note that even real estate is also not devoid of that risk. It is just the volatility is not visible in Real estate like equity.
And this is the reason Investors stay invested in the property investments for a long and then come up with stories of investing so less 15-20 years back and getting so much now. 
If you look at the average return of equity investments in this period it will surely be comparable to or higher than real estate with No risk which I talked about in the article above.
It is important to note that Real estate grows only after equities i.e. when businesses are making money, and people are confident to invest in lock-in products, supported with low-interest rates on loans…like in today's covid times.
But if there's a risk in equity then the risk is higher in real estate. (Also Read: 5 Risks Doctors are exposed to and how to manage them)
In the end, I just want to say that No Investment comes without Risk. All have their share of risk and return. One should always look at the financial life holistically and consider all the risk-return expectations in the financial plan and choose suitable investments for long- and short-term goals.