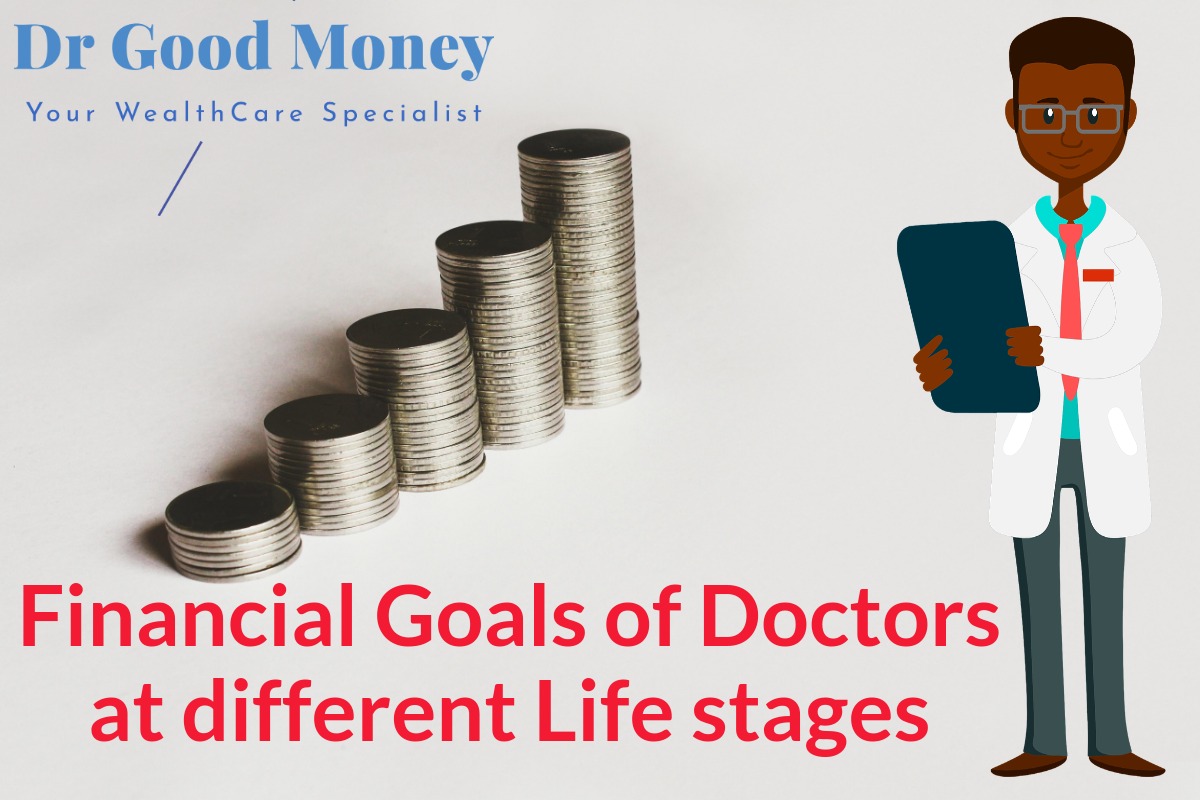 Doctors go through different stages in their Practice or Job.
Just like in any business or any private sector Job, there is an Initial phase when you have just entered into the profession which for doctors could be in late 20s and continues till Mid 30s.
Later, once you have settled yourself and gained decent experience, it's a stabilization phase, when you have got good hold on the subject and start looking towards the future growth, this starts somewhere in the Mid 30s.Read more: How Young Doctors Should Set Their Financial Goals?
Post 40s Doctors see Growth, sometimes exponential growth, which continues for many years till you yourself decides or your health forces you to slow down in the work, and which leads you to Maturity stage.
In maturity times you have gained enough experience and quite a good name in the fraternity, that you no longer need not to search for work, but you work with choice.
However, in all the stages if doctors take their financial security for granted then the last phase in any business cycle which is "decline" can also come into their life and that too sooner than later. Read more: Financial Planning for Different Life Stages of Doctors
YOUR FINANCIAL DATA
RECORD KEEPER
Organize and Collate data at a Single Place for easy Access and Management
But if planned well then, the decline will never come. In fact, this should be the ultimate goal. That you should never outrun your Money. Also, your Money should not be blocked or invested in wrong products where you could not take benefit out of it. Your Money should help you lead a healthy, happy and easy life.
Today I am going to share with you a list of goals which generally doctors like to Plan at different life and work stages.
Though I agree that every person is different and may have different goals, but this is to give you an idea on how you should work out your finances and start at the right time, rather than waiting for the situation to come
I have also prepared a Video around this topic, which you may like to watch below
Financial Goals of Doctors at different Life stages
Starting Phase (Age Group 25-30)
Providing for Emergencies – This should be the Primary goal before you even start with any Investments. Emergencies can come in any form and at any time. And That should not bother your financial situation and should not let you compromise with your other goals and aspirations.
Saving towards further Studies – During this Phase, normally doctors are preparing for further studies, some are doing or preparing for PG or may be Super specialization. Time crunch is normal in their life. And when you are already earning salary from work or even getting stipend, its wise not be completely dependent on your Parents and better do your own savings to pay for your further studies. I have met many doctors strictly of the view that they no longer want parent's financial support.
Expense Management and Budgeting – This is the time when one develops financial habits. And having control on where your money is going is a very good habit. Many young doctors would like to work on this behavior and follow the budgeting aspect.
Holidaying with friends – This can be one of the expenses which many young doctors seriously want to provide for. They understand that they need breaks and would like to go out with friends. A weekend break in quarter or a long annual break…this is the decision you need to make and start providing for.
Buying Study materials, subscribing to Academic Journals – This can be a routine regular expense or one-time annual expense. If you have a clarity on this Planning becomes easy.
Buying Health and Disability Insurances – Since Post 25 years of age, you will be out of your parents' health Insurance policies and also after seeing so much health problems around you and heavy cost associated with the same, many young doctors get sensitized towards health covers and prefers to buy Mediclaim asap.
Saving towards Own wedding– Many wants to Support their parents for the wedding expenses or at least would like to spend own money on the Honeymoon or later travelling.
Buying New vehicle– When not planned some doctors get lured with the bank offer of "low Interest rate for doctors" and get themselves a vehicle. All this some times impacts their other important goals and they have to compromise on some of them. Where as some show wisdom and understand that vehicles are depreciating asset and better to save first and then buy or go with second hand purchase or restrict themselves to small manageable vehicle. (Read: How Doctors should plan the Borrowing?)
The above goals may not apply to all in this age group, but yes, in my experience I have seen young doctors targeting all or many of these.
Stabilisation Stage (Age Group 30-40)
This is the age group when most of the doctors get married, have children and also stabilize themselves in the profession. They would like to make a balance between their work and family life. By this time, they have earned decent experience and name in the Fraternity and are now slowly looking forward to the Growth.
After the initial years are over, and now when doctors are used to the terms and financial jargons, they are clearer on how they want to move ahead and have clear goals in mind.
These age group doctors generally has below mentioned goals in their List
Emergency fund – Like explained above this is the foundation goal.
Life, Health and Disability Insurance – With Family and additional responsibility, this age group doctors like to cover themselves of all the possible risks and buy adequate sum assured. However, many also gets mis-sold with ULIPs and Traditional policies when the concern they show is not the coverage but just buying the policy. Read More: 5 Risks that Doctors are exposed to and how to manage them?
Travel – Travel profile also gets changed in this phase. Now Doctors travel with family or to attend some conferences to upgrade themselves.
Child's future – They would like to Start saving towards their Child's future too.
Down payment to Buy House – If doctors don't live in their own house many like to start thinking to buy own house and would like to start saving towards down payment and make arrangements for the EMIs   (Read: How doctors should plan their first home purchase?)
Replacing Old vehicle with New– Now when you feel yourself more stabilized in the profession with a Regular income coming in hand, doctors feel confident to buy new vehicle.
Starting Own Practice – Many who intend to start their own practice, start allocating money towards the same so they can rent the space, buy equipment and do necessary required interiors in the space.
This stage actually demands a detailed understanding of Personal finances, so proper arrangements can be made for all the possible goals. Sometimes doctors like other humans decide on their emotions without seeing the practicality. So they need a third party opinion to understand and decide what is best for them.
Growth Stage (Age group – 40 – 50):
Normally, the financial goals of doctors stated above gets extended to this stage also. However, depending on how well doctors have done in the last decade and how stable and settled they feel about themselves, some more goals get added or get upgraded. The list goes like this
Travel – May shift from Domestic to International, for leisure or to attend conferences
Prepayment of Loans – When you find stability in income and decent inflow coming in, some doctors plan to prepay the loans as soon as possible.
Saving towards Retirement – This is the phase, when after having worked for so many years doctors get sensitive towards the Retirement too as one gets to experience lifestyle diseases in self or in friends around. Job security for doctors is not an issue but it is a stressful job, so its wise to plan for retirement and save towards it at the earliest. Read More: Retirement Planning for Doctors – Why it should be the Most important Goal?
Expanding Practice– Many who have started their practice they would like to expand the same and work towards its growth with marketing or opening up new clinics or expanding from clinic to Hospitals. Tying up with other doctors etc.
Losing Focus – Though its never a goal, and no one wants or agrees that he/she has lost focus, but when you don't see and challenge in your income or life, you tend to make many mistakes. And Most of the time doctors in their 40s like to accumulate more real estate, fall for sales pitches and buy low yielding Life Insurance policies, or may get into high lifestyle related expenses which impact the otherwise savings towards important goals.(Read: How real estate is riskier than equity?)
Mature Phase (Age group 50 – 60)
Now doctors have Good Income, Great Practice, Decent Investments, Kids also have grown old and loans are near completion. So, many times this maturity leads them to think about the distribution side of Financial Planning and they like to plan for
Writing their WILL or Forming a Private Trust, as the case may be.(Read: Responsible Doctors..do write their WILL)
Like to Rebalance their portfolio and depending on the risk tolerance and other goals, may go aggressive or defensive
There could be need to pay for higher education of kids or if they have reached marriageable age then Investments may need to be reworked and make arrangements for these payments.
Mature Phase 2 (Age 60 and above)
Generally, doctors do not retire. Even if they have superannuated from any government hospital or even private one, they like to continue working as a consultant with other hospitals. And due to the dearth of doctors in the country, all hospitals are happy to invite them even on part time basis.
As long as the need to keep working is by choice then its fine, but If the reason is money, then it could be the reason of bad or No planning in the early years of Life.
Some doctors also like to slow down but continue with the practice on NO or Low fee.
With kids have got married, some doctors like to shift their priorities and focus to them and help them settle in their lives.
Travelling increase for some if kids live away from them or abroad. This result into increase in expenses
Here doctors like to consolidate their investments to have a clear picture of their net worth and may even like to sell of their Real estate, and also may like to make regular income arrangements from Investments
Conclusion:
As said in the beginning that every person is different and thus have different approach to their life and finances. But you should not be blind to the dangers of unpreparedness in this area, and there are many benefits to being well-prepared.
However, many physicians still do not understand the complex implications of financial planning. This can lead to problems such as missed opportunities for growth or getting into wrong unsuitable products for wrong goals or taking emotional decisions and making financial management more complicated.
Success comes from Process and when you admit and agree that you may not have time or skills to manage your finances well, there is nothing wrong to ask for help from professionals.
Following a structured approach has their benefits and you yourself being a professional understands it well.
Hope you like the article on Financial Goals for doctors. Do share your feedback or questions in the comments section below