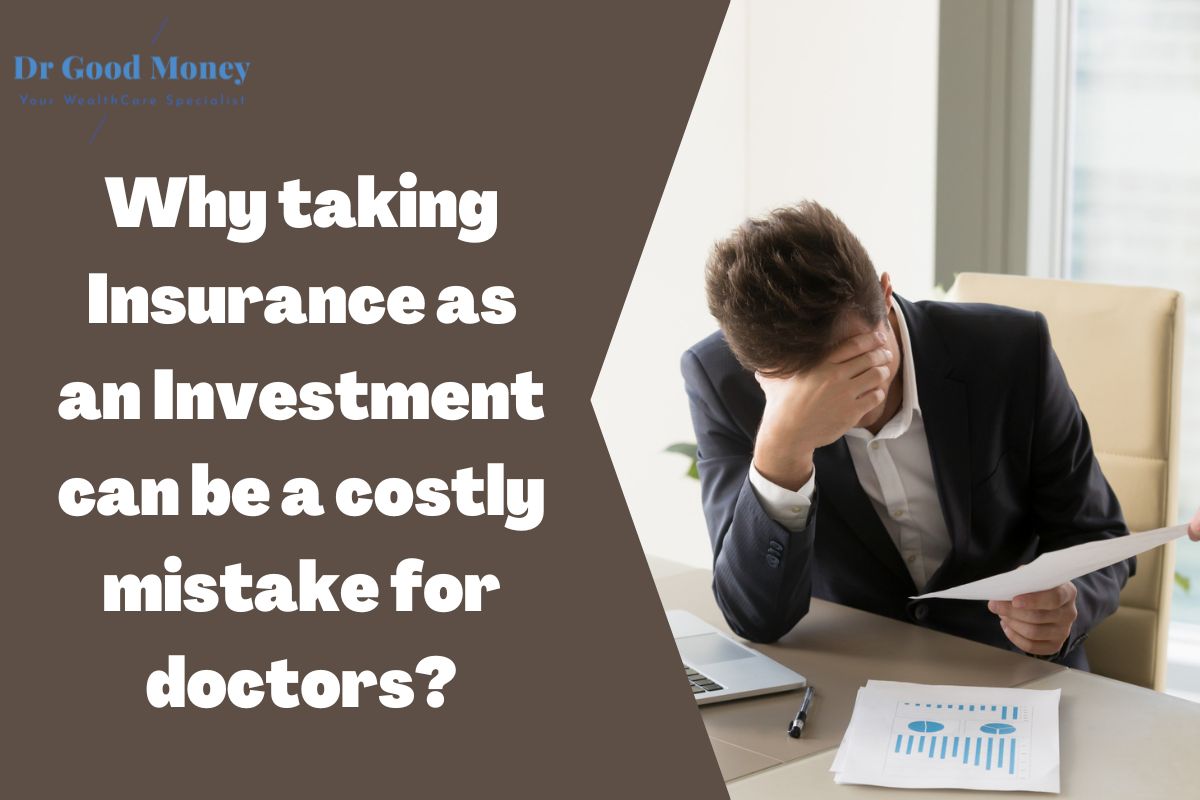 Last month when I was going for a small vacation, I met Dr. Amit at the Airport lounge. I was introduced to him by a common friend who was with me on the tour. Dr. Amit was also boarding the same flight to attend a Conference.
He said- "My financial planning is sorted. My neighbor (an insurance agent) is my advisor and has suggested to me some very good "plans" for securing my child's future and to support my old age. Moreover, he promised me "Guaranteed returns" on all these."
"My Banker also keeps advising me on some market-linked policies with "assured returns" on maturity"– He Added.
Well, I must tell you Dr. Amit, the lure of "Guarantee" has caught you. This is just a marketing tactic that agents use to sell these policies to gullible investors like you. No professional financial advisor/planner can give a guarantee or assure you of any returns on investment.
These plans which you are speaking about are a mix of insurance and investment but are good at neither of the two. These do not provide insurance cover, nor are they good products to invest in.
What are you saying, is it?- Exclaimed Dr. Amit.
And, financial planning doesn't happen like this. Just purchasing some products or "plans" is not planning. It is a process-oriented approach, not product-oriented. It is a comprehensive process of looking at the suitability of the product before investing, not just returns. (Read: Financial Planning for Doctors- what to expect?)
We continued to discuss many things connected to financial planning, the process I follow while doing financial planning for my clients, his practice, family, etc.(topic for some other day), and didn't realize that the flight was about to land… we reached the destination.
At last, he agreed with the thought process of financial planning and was looking convinced.
I invited him to my office with all the policies along with the surrender values for the analysis, after a week when I would be back at work after the break.
Dr. Amit took time from his busy schedule and visited my office with a heavy file. He has accumulated close to 15 such policies. 3-4 child plans, 3-4 pension plans in the name of self and spouse, 3 LIC money-back policies, 2 Jeevan Anand policies, 2-3 ULIPs, etc.
We analyzed each of the endowment policies and pension plans and found that the IRR of none of these came to more than 5%. In the next meeting after a week when I showed my analysis to Dr. Amit, he got the shock of his life!
Initially, he did not believe the calculations and showed me the policy brochures where the guaranteed returns were written.
I explained the logic behind my calculations and also presented the past numbers of policy bonuses which became the basis of the same.
As they say- "You torture the Numbers and they will confess anything". But when numbers are presented by documented proof of past records, then it gains authenticity.
The Idea was not to degrade the policies but to make Amit think about the role and support of these policies in his overall financial wellness.
A Very Common Money Mistake by Doctors:
In my 15+ years of career as a financial planner and interacting with many doctors, I have seen a majority of them at least have one insurance cum investment product in their portfolio, if not many.
Be it a LIC policy, whole life plan, pension plan, children's plan, moneyback plan, a Unit Linked Insurance Plan, etc.
Just like Dr. Amit, these policies are generally taken either for securing children's future or as a retirement planning tool to provide for pension for old age. (Also Read: Why Planning for old age is important for doctors?)
Certainly, these needs are valid but these policies are not a solution.
Well, doctors being busy professionals and lacking the understanding of how these policies work become easy prey to these insurance sellers who get them into their trap by using words like- Guarantee, Surety, Security, Safety, etc…
They will never tell you the return you will get (even, they might not know this). Rather they will speak the language of lump-sum numbers like- at the end of 20 years you will get X amount as a bonus on maturity along with the sum-assured. These numbers look big in the first instance and the way they are presented but in reality, your money doesn't grow at all.
The purpose of life insurance is not an investment:
Before entertaining these bankers, insurance agents, etc. Doctors need to understand that the whole purpose of life insurance is to protect the financial dependents of the policyholder if something happens to him/her, not to earn any returns.
Do you take medical insurance, indemnity insurance, accident insurance, or car insurance also with the purpose of getting something back? No. Right?
Check our detailed articles on-
You take these policies to cover the cost of hospitalization, professional liability, disability, or damages to the car. Similarly, the purpose of life insurance is to cover the needs of the financial dependents or your liabilities like- a home loan in case of your absence. (Also Read: How Doctors should plan their finances before taking any loan?)
Life insurance is not meant to take care of the Child's higher education, or support your old age with some regular pension. There are other products that serve these purposes.
In fact, it is highly likely that you cannot meet these goals with the returns or the pension amount you are promised from these policies. The returns of these plans range between 3-5%, it doesn't even beat the inflation which is around 6-7%.
So, What's the Solution?
You should avoid taking life insurance for your investment needs. It defames its whole purpose. Also, these policies are neither good for insurance needs nor investment needs. Whether it is an endowment plan, money back plan, Children's plan, ULIPs, etc. do not provide adequate insurance cover or good returns on investment over a 10-20 year period. 
The only life insurance you should buy is plain, simple term life insurance, after assessing your insurance cover requirements considering the goals, income requirement, and liabilities that require protection.
Term life insurance will provide a lump-sum amount to your family members in the event of your demise, during the policy term. If you survive the policy term, nothing shall be payable.
Through a term life cover, you can get an insurance cover that is adequate according to your needs at a much lesser cost as compared to these endowment plans, and ULIPs.
For example,  if you are 40, and want a term cover of Rs.1 Crore, the annual premium would not be more than 15 to 20 thousand. Whereas, if you take the same coverage through an endowment plan, the annual premium would be around Rs.5 to 6 Lakhs. The difference is huge. Isn't it?
Also, these policies come loaded with heavy charges like- premium allocation charges, mortality charges, Administration charges, commissions, etc. that most of us didn't even realize paying with the premium amount. The charges are so high that out of the Rs.1 lakh premium you pay, only 90,000 gets invested and the rest goes into these charges.
And, as far as these goals of Child Higher education and planning for old age are concerned, there are various investment avenues like- Mutual Funds, PPF, NPS, etc. that can help you plan these.
Check our detailed articles on-
To get your both insurance and investment planning done right, following a process-oriented approach you should consult a good financial planner. (Also Read: How Doctors in India should choose their financial planner?)
He/she will help you assess the amount of life cover you require according to your needs. Also, I will recommend the right products that are suitable for your insurance as well as investment needs based on the risk appetite and goals targeted.
Also Check- Is it required for Housewives to take Life Insurance?
Conclusion:
Insurance is one of the most mis-sold products in India for years. These endowment plans are marketed using words like- "Jeevan Suraksha", "Sar Utha Ke Jiyo", "Zindagi Ke Saath Bhi, Zindagi Ke Baad Bhi", and Guarantees. These words make an emotional appeal and we somehow fall for them.
Insurance agents also use each and every sales tactic to lure gullible and less aware investors like doctors to meet their sales targets. These mis-sellers care the least about your needs.
So, next time when any agent pushes you with these pension plans, children's plans, or endowment plans, "do not buy them". Buying insurance for investment can indeed be a very costly mistake that you would realize too late when nothing could be done.
So, a wise thing would be to keep your investment and insurance needs separate. Buy a term life cover for your insurance needs and invest in different investment instruments based on your risk appetite for your long-term goals.
If you think that you need help, you can always take the services of a  professional financial planner who can help you with your insurance, investment, and overall financial planning.